How to prepare well for rafting?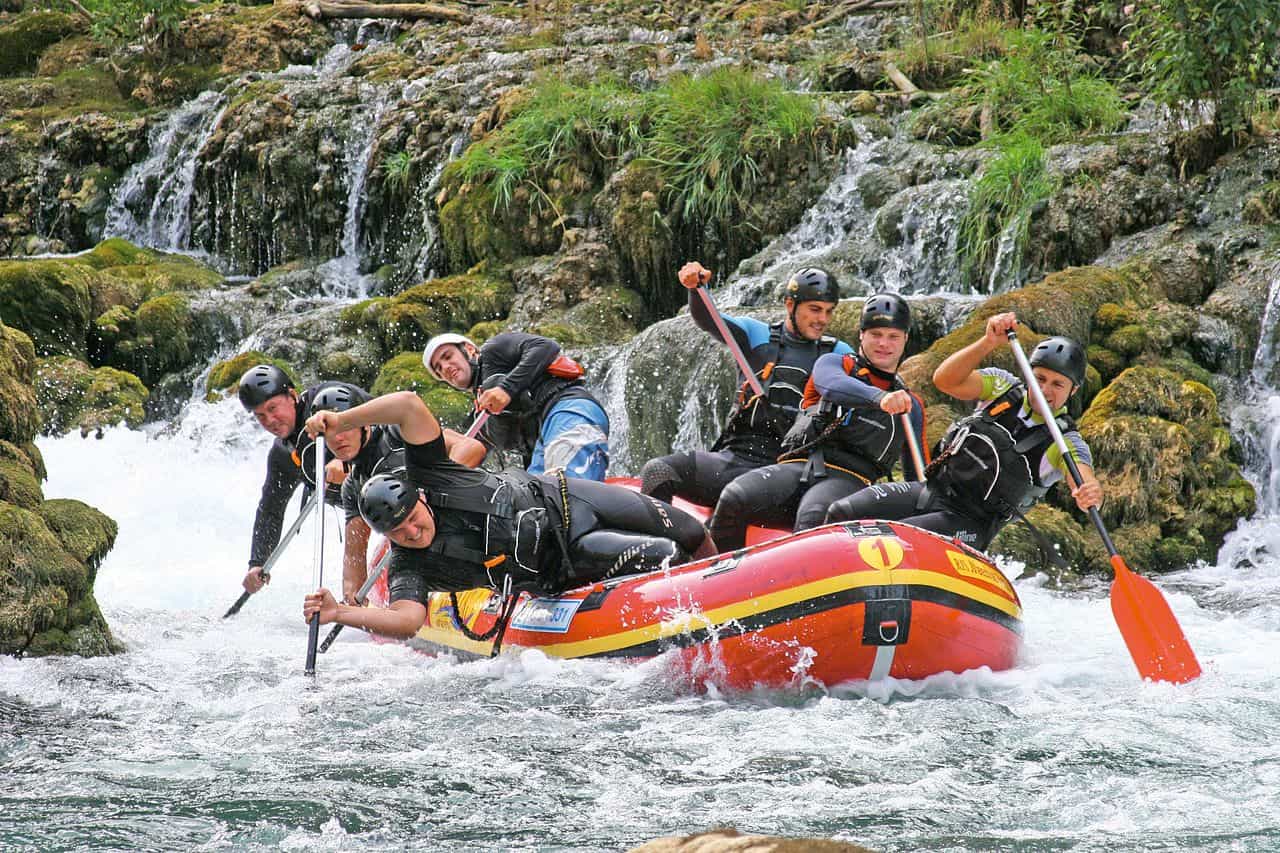 You need about 4 min. to read this post
Are you looking for a sport that involves constant adrenaline surges and a strong thrill? Rafting will certainly meet your expectations!
Rafting – is it a sport for everyone?
Watching the coverage of rafting, one can get the impression that it is an extremely extreme sport, intended only for people in excellent physical condition and no less courageous. Rushing mountain rivers and streams, sometimes almost vertical drops, sharp turns – this is a huge portion of adrenaline. The good news is that practically everyone can try and see how this unique adventure tastes. However, if for the past few years, the only activity you've been doing was walking to the store to buy cookies – you'd better get to work quickly. Rafting requires good physical condition. Time to train!
Strength and fitness are key
While in case of kayaking on gentle rivers you don't have to worry so much about the level of your body's fitness (if you run out of strength, you can always rely on a gentle current – sooner or later you will reach your destination), in case of rafting it is not that simple. Mastering the pontoon on a rapid mountain river requires a lot of strength. In the interest of your own safety, it is worth betting on training to strengthen the muscles of the upper body. A good idea is a gym and a series of exercises under the supervision of an experienced instructor. An excellent preparation for rafting can be crosstraining – more and more popular general training.
Equipment and clothing – what should be kept in mind?
When it comes to equipment, assuming you're a rafting beginner and you're signing up for an organized rafting trip, a pontoon or paddles are nothing to worry about. All the equipment you need to safely conduct a rafting trip will be provided by the organizer. Your job is to make sure that you focus on proper clothing.
In the minds of people who go kayaking for the first time, there is often a question – what to wear? There is no one golden rule, although keep in mind that two sets of clothes are a good option. It's always nice to change into dry clothes after getting out of the pontoon. And you can be practically sure that you will get soaked to the skin during the rafting trip.
An important issue is footwear. Flip-flops will not be the best idea. Opt for shoes that fit snugly on your feet, such as special water shoes, but regular sneakers will also work. If you want to swim in a bathing suit, then choose clothes made of special materials that dry quickly. A cotton T-shirt will not only soak up water in a few moments and become heavy, but will also take a very long time to dry. If you are thinking about rafting seriously and want to get more involved with this great sport, then you can invest in a wetsuit. It's a considerable expense, but it makes swimming much more comfortable – especially in extreme conditions.
Graduate the difficulty of the rafting trip slowly
A rafting trip, even in its lightest version, is not a trip on a pedal boat on Lake Solina. You need to assess your skills well – both your safety and the safety of other people on the raft will depend on it. Even in Poland, there are rafting routes suitable for beginners. If it is your first rafting trip, first of all, start with an easy route, and secondly, make sure that you have some more experienced people around you.
If you decide to take the plunge, not only will you have a lot of fun instead of frustration, but when you finish, your body will demand more excitement and you won't be able to offer it anything more after choosing a difficult route. Raise the bar gradually, and then you can be sure that you will not run out of ideas for interesting sport challenges for the next few years.